Freeze is a male White Kyurem.
Freeze


Affiliations
Current Home:
Roaming
Past Home(s):
Giant Chasm
Type
Type:
Dragon and Fire
Gender
Gender:
Male
Age
Age:
18
Personality
Personality:
Brave
Mate, Offspring, Friends, and Siblings
Mate:
None
Offspring:
None
Friend(s):
Axey, Flash(?)
Sibling(s):
Legend, Zerkrom
Favorites
Favorite Food:
Frozen Berries
Favorite Toy:
"WHAT THE FUCK IDIOT, I'M TO OLD FOR TOYS!!!!!" -Freeze
Role-play
Role-player:
WolfStar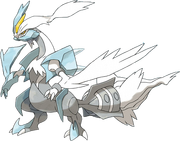 He appears at home with
Legend
, and smacks his forehead for Legend's bad intro. Then
Lillipup
gets scared and runs away screaming, making Freeze felling

sad. He guess it was his looks.
He is based off WolfStar's level 77 Kyurem Kyle.
Despite the 15th PKMN movie, his best friend is a Keldeo.