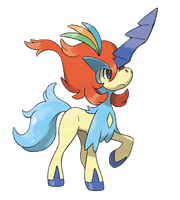 Keldeo


Affiliations
Current Home:
Home(?)
Past Home(s):
None
Type
Type:
WATER & FIGHTING
Gender
Gender:
Male
Age
Age:
18
Personality
Personality:
Brave, Nice
Mate, Offspring, Friends, and Siblings
Mate:
Ponyta(maybe)
Offspring:
N/A
Friend(s):
Freeze
Sibling(s):
N/A
Favorites
Favorite Food:
Pizza
Favorite Toy:
VIDEO GAMES!!!!!
Role-play
Role-player:
WolfStar
Keldeo is a male Legendary Pokemon. His best friend, despite the 15th PKMN movie, is Freeze.
He appeared on the playground, shocking a Munna because he was a Legendary.

He wishes he was a Dragon Type.