Lillipup

Lillipup's trading card
Affiliations
Current Home:
Home
Past Home(s):
None
Type
Type:
Gender
Gender:

♀

Age
Age:
5 years old
Personality
Personality:
Carefree and kind
Mate, Offspring, Friends, and Siblings
Mate:
None
Offspring:
None
Friend(s):
Pidove, possibly Josh
Sibling(s):
None
Favorites
Favorite Food:
Candy
Favorite Toy:
Plushy
Role-play
Role-player:
~Leafy~
Lillipup is a Normal Type Pokemon from the Unova region. In this case, Lillipup is a female.
Lillipup is first seen during the battle with Zoroark, and she and her friend, a Pidove, are about to get crushed by a Druddigon, but Servine, Dewott, Prinplup, Marshtomp, Emolga, and Croconaw protect the two infants and battle the Druddigon.
She is also seen again during the same battle with a bunch of other baby Pokemon attacking Zoroark's deputy, an Eelektross.
Later, Lillipup is then seen using Crunch unknowingly on a shiny Cacturne, which also hurts Isis and Bisharp, due to the fact the Cacturne used Destiny Bond on them. After the Cacturne leaves, and then some time later she sees Spark zapped by a Taser, and asks what happened.
Lillipup is seen running around the hallways, and later scratching on Josh's door. She finds Simisear hiding from Gothita as she runs down hallways.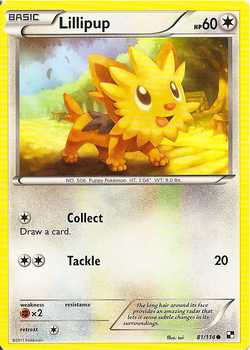 Lillipup does not want to evolve, so she carries an Everstone with her.
Lillipup, as shown in the role-play, apparently does not know what love is, but this is probably due to her young age.